<![if !vml]>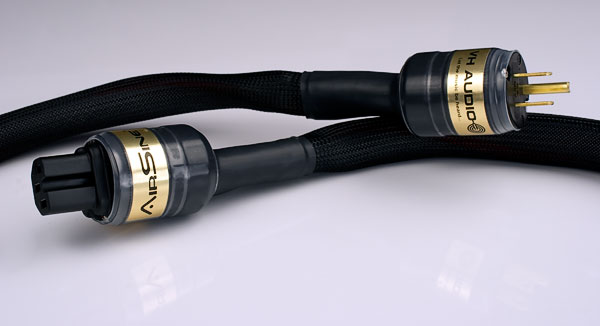 <![endif]>
Introducing the AirSine Power Cable, by VH Audio
If you own a high-resolution system, and have already traveled down the upgrade path with your electronics, the new Gold Label series of audiophile cables from VH Audio may just be the final piece of the puzzle for you to achieve musical playback bliss.
The first product to be included in the new "Gold Label" series of the VH Audio cable lineup is the AirSine AC Power Cable. The Gold Label series are "cost-no object" products that utilize state-of-the-art technologies and processes, some of which have never before been used in audio cable manufacturing. No single company had all the necessary expertise and resources to make the raw cabling "in-house", so VH Audio researched, interviewed and cherry-picked multiple companies to manufacture the raw cabling in several different phases. Although this certainly costs more, the result of this process is a no compromise product that we feel will redefine the limits of performance, while still being priced well below other elite products in the marketplace.
Please click here to read user comments on the AirSine.
Features of the AirSine power cable
The "hot", "neutral", and ground conductors EACH use 10 AWG conductors for unrestricted current delivery in even the most demanding applications
An optimized strand-count & lay of oxygen free high purity copper wire is utilized for both the "hot" and "neutral" conductors. This provides greater resonance control and higher conductivity, resulting in a dead-quiet noise floor, as well as a grain-free presentation.
Hot and neutral conductors are uniformly insulated with VH Audio's new

Airlok

™ dielectric to achieve extremely low dielectric absorption, and a dielectric constant of LESS than 1.5. By comparison, the dielectric constant of a perfect vacuum is 1.0, while Teflon is 2.0-

2.1 .

The result is faster transient response, better overall coherence, and increased resolution, without being sterile or analytical.
A symmetrical, noise canceling, and self-shielding geometry is utilized to further reduce background noise and minimize interactions with externally-induced fields, and other cabling in your system.
Teflon ™ film is wound around the cable core at precise tension, in order to restrict relative micro-movements of the conductors, which may otherwise smear the sound.
A state-of-the-art vibration dampening compound is applied at high pressure to conform around the internal conductor bundle. This further restricts relative conductor movement and dissipates both internal and external resonances, lessening the mechanical feedback of vibrations into your component chassis. This is especially important if your equipment uses vacuum tubes or is sensitive to chassis vibrations.
Cryostage

™

cryogenic treatment process is performed at various phases of cable construction. The result in a subjectively wider dynamic range, better phase coherency, and even lower noise floor.
VH Audio's pioneering Spaced Counter Spiraled Ground

™

topology minimizes capacitive coupling of hot/neutral conductors to safety ground, optimizing yet another area where noise may enter the system.
The safety ground wire has been optimized by employing a tremendously thick, yet very flexible vibration dampening dielectric. The internal strand count and configuration has also been refined for resonance control and maximum performance.
The finished

AirSine

power cable is ultra-flexible for easy cable routing, and to further minimize vibration coupling to your component
The

AirSine

is terminated with your choice of premium

WattGate

gold-plated 330i and 350i series connectors or Furutech FI-25 series Gold connectors (please specify your choice when ordering). Furutech Rhodium plated FI-25 connectors are also available, at additional cost. 20 amp IEC's may be fitted upon request ($20

upcharge

).
The entire cable is "conditioned" after final assembly on an "

AudioDharma

Cable Cooker Pro". This means much quicker ramp-up to maximum performance in your system.
Finished cables are made with the best components available worldwide, and are handcrafted in the USA by VH Audio.
All

AirSine

power cables are covered by VH Audio's industry leading product guarantee: If you aren't delighted with your purchase within 60 days of receipt, VH Audio will cheerfully refund your purchase price. * Click here for full details
| | |
| --- | --- |
| Retail Price | Introductory Price |
| 4 ft- $1199 | 4 ft- $699 |
| 6 ft- $1399 | 6 ft- $799 |
* Custom lengths are available upon request
* Default plug positions are 6:00 for AC male plug ground prong, and 6:00 for the IEC female ground prong. If your configuration is different, please let me know in the "special instructions" section of the checkout form, and I'll adjust. This lets me know where to apply the labeling, so it is always facing "up" (12:00). >>> Now available with (optional) Furutech Rhodium plugs.
Place your secure order online below
* Airlok, AirSine, Cryostage, Spaced Counter Spiraled Ground, and "Gold Label" are trademarks of VH Audio, Inc.
* Teflon is a trademark of DuPont Corporation.
Copyright 2005- VH Audio, Inc.